Mention Tian Lai to any Johor Bahru Food lovers and they will most probably acknowledge in approval. Tian Lai is situated in Gelang Patah which is extremely near to the Singapore second link. I have heard so much about Tian Lai's cheap and good seafood that I decided to venture out into the "unknown" at Gelang Patah.
Tian Lai is family owned as the eatery is at the front of the restaurant owner's house. The front pouch has been transformed into a kitchen area and dining area. The ambience's is relaxing unlike high end eateries where everything is very professional and purely commercial.
Tian Lai specialize in the following dishes:
Pineapple Duck
- Duck fats is used to stir fry pineapplies, chilli padi, sugar and oyster sauce. Duck meat is added and stir fry till cooked. It is then served in a hollow pineapple shell, like pineapple rice.
Black Pepper Crabs
- Indonesian crabs are used and fried with garlic, black pepper and Hua Diao wine.
Roast Suckling pig
- Roasted with black vinegar, asterix spice, Hua Diao wine, Oyster sauce, sugar, small shallots.
Information
Address :
Tian Lai Seafood Garden
158, Jln Leong Bee, Gelang Patah, 81550 Johor Bahru
TEL: 07 510 1521
Daliy 12pm to 11pm
Closed on Alternate Mondays
Driving Instructions 1: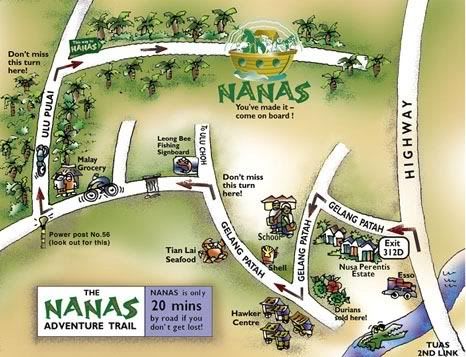 Take 2nd link, after R&R there is exit to Gelang Patah town, drive straight till a T junction where you see a big globe, make a left turn, drive pass many shop house till you see a Shell petrol Stn,
make a right turn after the petrol station,Tian lai should be about 100 metres from there on the left, you can park right infront of the restaurant or along the road.
I would suggest in order to save up

toll charges

that you follow the following route instead from the causeway instead of second link.
Driving Instructions 2:
View Tian Lai in a larger map